Let's talk about the open source IP-KVM (or KVM over IP) solution based on Raspberry Pi 4B, named Pi-KVM, which has sophisticated feature sets that can provide almost same experience like HP ILO or DELL iDRAC, only except the hardware monitoring and err logging.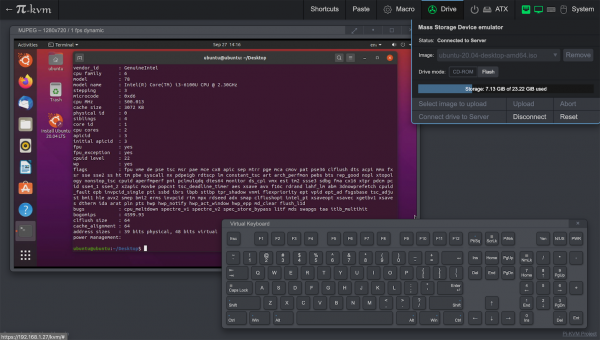 Hardware screen capture with low latency.
OTG Keyboard & mouse; Mass Storage Drive emulation.
ATX power control (thru Pi GPIO) with some MOSFET relays.
RJ-45 and USB serial console port.
IPMI BMC, redfish… all those professional server stuff support.
Nice and easy-to-use web UI with virtual keyboard, video quality control, key-combination shortcuts and virtual USB drive control.
A fully featured, user-customizable Linux OS.
只要玩过专业带外管理,基本就很难接受只有本地键鼠,以及OS之上的RDP和VNC了吧。
随便放两张Dell iDRAC系统截图吧。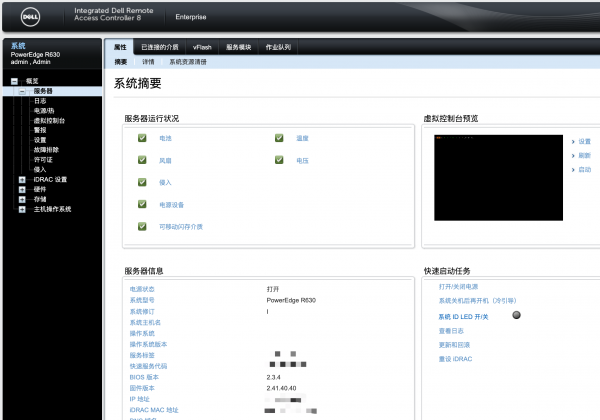 今天要聊到的Pi-KVM,在简单廉价的硬件结构上,实现了除硬件子系统监控和告警之外,专业BMC几乎所有功能。
低延迟的显示器信号捕捉和传输(100ms以内)。
OTG 键鼠,U盘模拟;给家用机远程load OS不叫事儿。
通过Pi GPIO外加几个继电器实现的ATX电源控制;不说也懂,控制不了电源还叫BMC么。
RJ45和USB串口;既能控制路由/交换,也能控制自己。
IPMI BMC,redfish… 专业能玩的,它都能玩。
简洁实用的web控制台,软键盘、组合键、粘贴板、视频质量控制、虚拟USB驱动器控制,全乎+易用。
除了所有以上之外,还是个全功能的Arch Linux ARM版本,灵活性刚刚的,这可把专用BMC打趴了吧。
多吹无益,上图。
【注】请忽略裸线,5V和GND用胶带缠了一下,反正不是高压,胶带不绝缘也没关系,别物理刺穿就行;银色金属箔是屏蔽,说明小米的线做工还是靠谱的哈,该有的都没少。
按文档制作基于Ventoy的Win10安装盘,全程不用物理U盘,安装Windows。
如果我没说清楚,就重申一遍。类似Dell和HP的专业BMC,可以直接远程挂载ISO装系统。Pi-KVM更狠,借着自己内置存储,直接把U盘/光盘镜像上传,经过物理USB线,模拟一个驱动器插到被控电脑就搞定了,有点爽。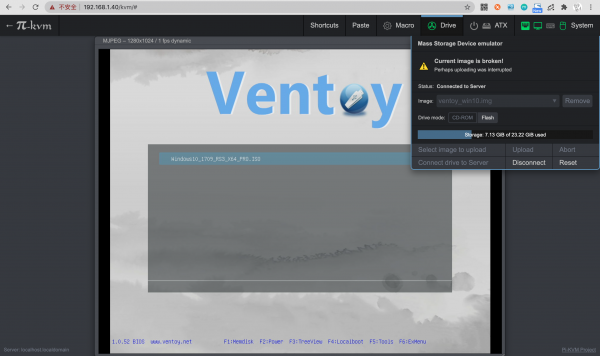 如上所言,被控电脑经USB线连接仿真U盘,BIOS从Linux file-CD启动,无论装什么OS都能够顺利引导。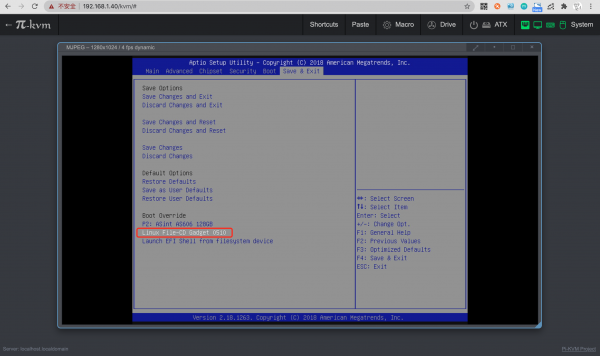 完整阅读本篇»